BOOKKEEPING SERVICES
Struggling with the hours needed to manage your business?
Exhausted from the angst of money? Overwhelmed with the paperwork?
Your success relies upon having someone available to guide you financially, and keep an eye on the details.
Let us help you figure it out.
We give you flexibility by working weekly, monthly or quarterly and tailor our service to meet your needs and deadlines. See our packages below. The latest in cloud based technology is used so that I am personally available to you regardless of time or location.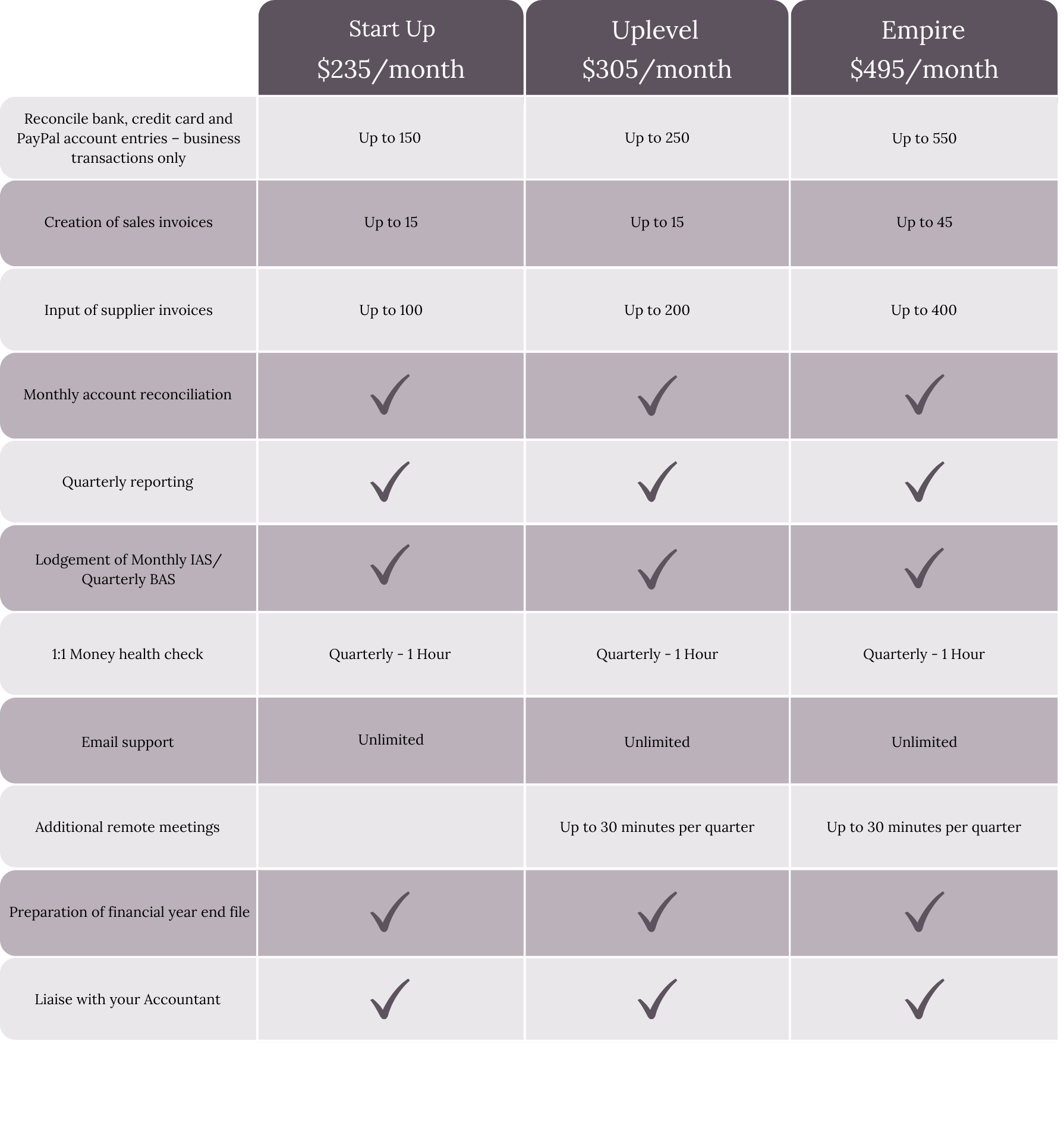 These packages assume that :
your Xero software is ready to go
you are a service based business
your bank reconciliations are up to date
there is no payroll processing required
Custom Packages
Can't see a package that suits your needs? I can tailor a package to meet your specific requirements.
Please feel free to contact me and we can discuss your requirements and how I might be able to help.
Click on the button below to schedule a call, I look forward to chatting with you!
Managing a home-based business for the past 28 years, I know how important the right kind of professional support is to my peace of mind.  I switched to ESC over five years ago and yes, they are most definitely 'Efficient, Smart, Creative'.  But the difference between ESC and other bookkeeping services I've used is that I know without doubt that Cindy and her team has actively "got my back" – the kind of personable support that's so helpful for a sole trader.  It's the difference between just being a client and feeling looked after.
From HR management strategies to miscellaneous queries, Cindy's reliably fast and friendly service is so far in front of any I've ever used, that I can't recommend her highly enough.
People are at the heart of my business. I have a team of specialists who back me up. Kathy and Tracey in the photo with me are bookkeeping technicians. Tracey also operates our Sydney office.
As a diverse and talented team we have a combined bookkeeping experience of over 60 years. With an eye for detail and a practical approach we take the mystery out of working with numbers.
We work remotely with our clients, from our two fully equipped offices – one in Northern NSW and one in Sydney – to provide you with a reliable holistic business experience.